Jet-Lube 202 Moly-Lith
Jet-Lube 202 Moly-Lith is a multipurpose, high temperature, lithium, EP grease, containing 5% molybdenum disulfide (MoS2). The addition of microfine MoS2 enhances the load carrying capacity and low friction properties. Use for metal-on-metal, sliding, and rotational applications.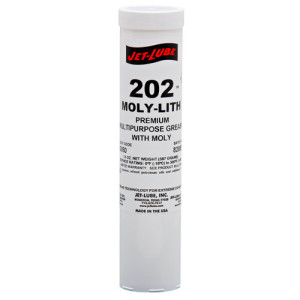 Service Rating: -18°C (-0°F) to 149°C (300°F)
Thickener: Lithium Soap
NLGI Grade 2
Timken Load: 29 KGS
Colour: Black
Multipurpose grease containing  5% molybdenum disulfide (MoS2).

Superior metal adhesion properties.

Contains rust, corrosion and oxidation inhibitors.

Resistant to the effects of water, heat, weathering, oxidation and heavy loads.

Excellent work stability under high loads, shock and vibration.

Protects equipment from damage caused by dirt, dust, sediment, rain and high humidity.

Pumpable consistency.

Free of environmentally undesirable metal.

No volatile organic compounds (VOC).
Product Size
Technical Data Sheet
Safety Data Sheet
400gm Cartridge
20L / 15.8kg Pail